View our Complete List of Licensed Waterloo Roofing Services We Offer
Has your roof sprung a leak? Is your roof aging and due for a replacement? Call your local roofing contractors for the help you need from friendly professionals that you can trust. At Shrum, we provide roofing services to customers in the Waterloo, IL area, including the counties of Madison, Monroe, Randolph, and St. Clair in Illinois and West County and South County in St. Louis County, Missouri. Our family-owned business understands the importance of having a solid roof over your head, and we're here to provide repair and replacement to keep your home or business dry and warm. Contact us for a free estimate!
Those in the Waterloo, IL area know that it's us to call for all their roofing needs. We offer services from a trained and friendly staff that has the experience to provide roofing services at all commercial and residential locations. Additionally, we take pride in providing a range of roofing services, ensuring the professional solutions that you need are just a phone call away. Contact us for any of the following services.
New Construction Roofing
Roofing Installation
Roof Repair
Roof Replacement
Roof Tear-Outs
Metal – There are quite a few benefits to metal roofing that include a life expectancy of 20 – 50 years, lightweight construction, ease of installation, fire resistance, reflectivity, and waterproofing. Unfortunately, metal roofing is costly, prone to denting, and may develop several other problems if not installed correctly.
Architectural – These are sometimes referred to as dimensional shingles or laminate shingles. However, these are not cut into tabs like traditional shingles and are reinforced with additional asphalt that has been laminated to the shingle with an asphalt sealant. This creates additional thickness over traditional asphalt shingles.
Slate – Slate roofing is desired for its beauty and recognizable texture. Additionally, slate can last over 100 years, which means you may never have to replace your roof again. They're also fire resistant. The drawbacks of slate roofing include the weight of the material, fragility to impacts from debris, and the overall cost, which is more than asphalt roofing.
Rubber (EPDM) – Rubber roofs are constructed of eco-friendly materials and prove to be waterproof and reflective of cold and heat. Unfortunately, they may be prone to leaking and damage from falling debris.
Clay Tile – Clay tile roofing has been in use for a very long time, and it can last over 100 years. Additionally, there are plenty of styles to choose from; it's low maintenance, energy-efficient, and resistant to damage from rot and insects. The downside to clay roofing is that it can cost 2 – 3 times more than an asphalt roof. Also, due to the materials used, they're only suitable for roofs with sharp slopes.
When Should you Call our Roofing Experts?
For most homeowners, their roof is often far from their daily concerns. However, it's essential to try and catch any damage or problem areas before they get out of hand, causing significant structural damage to your home. Regular inspections can help you spot any signs of roof damage or regular wear and tear. But what should you be on the lookout for? Here are some common signs that your roof may need professional repair service from Shrum Roofing and Construction.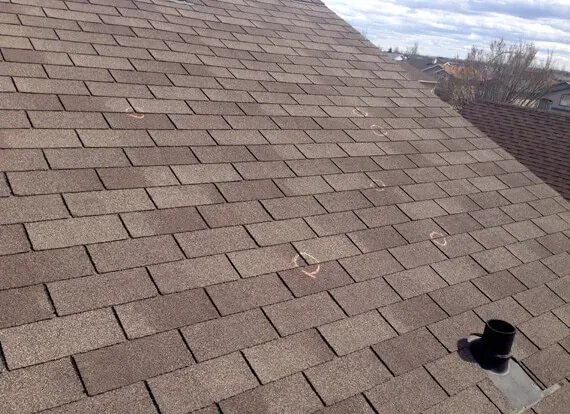 Shingles that don't look normal – If you notice shingles that appear darker, dirty, or wet when compared to others around them, this may be a sign that they're allowing moisture to be trapped behind them, which could lead to severe damage.
Shingles that show clear damage – Any shingles that are curled, cracked, or even missing should be addressed quickly to prevent the need for a roofing replacement down the line.
Shingle granules in your gutters – Asphalt and composite shingles shed their granules as they age, which will often end up in your gutters. If you're noticing a large amount of these, which look like coarse, black sand, it may be time for professional roofing service.
Leaks – The clearest sign of a roofing issue is a leak. This may not be as dire of a problem as it seems, however, as the culprit could be some loose or damaged flashing, but any leaks you discover should be taken care of by a professional ASAP.
Stains on interior walls or ceiling – Not all water stains or discoloration to your ceiling or walls is caused by roof damage, but why take the chance? Call in the experts to find out for sure what's causing this problem.
Unusual spikes in your energy bill – Can't figure out why your heating and cooling costs have suddenly skyrocketed? The cause may be leaks in your roof.
For fast, professional answers to these and other common roofing issues, contact our team of specialists today!