Roofers and Gutter Contractors In Mascoutah IL
Time to replace your siding? Are you starting a home improvement project? It's time for you to call your gutter or roofing contractors for the service you need at your home or business. At Shrum Roofing & Construction, Inc., we provide a wide range of siding and roofing services to customers in Mascoutah, IL and throughout the surrounding St. Louis area. As a family-owned business, you can trust that we understand how important quality is to you, and we use our wealth of experience to deliver the results you expect. Please get started by contacting our staff to schedule a complimentary consultation for your project!
Reach out to Shrum Roofing & Construction to Obtain a Complimentary Quote
Roofers Mascoutah, Illinois
In Mascoutah, IL, local people know just who to call for all their roofing installation and repair needs. They call Shrum's experienced team for trained professionals who understand how to provide service at all commercial and residential locations. We utilize our skills to offer a wide range of services, meaning you'll never have to wait long for the services that you need – we're close by, and we respond quickly. Whether you're constructing a new home from scratch or looking to make sure your current business property stays safe for years to come, our roofing contractors have years of experience to deliver quality results! From installation and replacement to tear-outs and repairs, there's no roofing project too big or too small. Contact our staff for a free estimate of your needs. Our team uses a wide array of sturdy roofing materials so we can offer you and your property the best option for maximum value and protection. Roofing material options we offer include:
Metal
Slate
Rubber
Clay Tile
Architectural Shingles
When you trust Shrum Roofing & Construction professionals for your property's needs, you can rest assured that your roof will be able to stand up to the elements for years to come!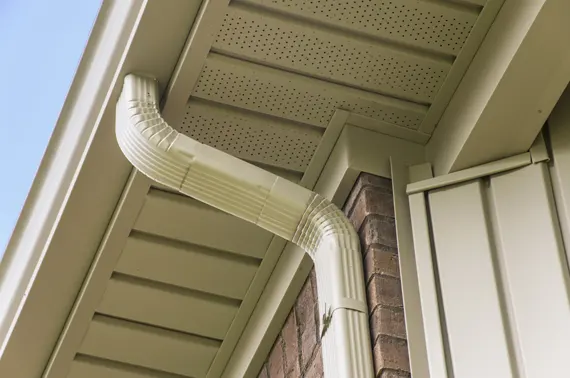 Gutters & Downspouts Mascoutah, Illinois
Problems with your gutters? Did you know that aging, damaged, or clogged gutters could cause water to pool around your roof or foundation? This could cause significant damage and thousands of dollars in repairs. We provide commercial and residential gutter services, including repair and replacement. Read below about available styles and materials.
K-Style Gutters – In modern construction, these are the most common types of gutters. They feature flat bottoms and backs with a decorative finish.
Half-Round Gutters – Most commonly seen in older homes, these look like tubes that have been sliced in half.
Why Picking Shrum is the Right Choice for Your Next Project
We go far beyond just being a roofing and gutter company; our capabilities span a diverse spectrum. From installing siding and windows to undertaking extensive home enhancements and constructing garages, our skill set is wide-ranging. As a local establishment, our dedication to achieving flawless results right from the beginning remains steadfast, as we are deeply ingrained in this community. Our adept contractors leverage their substantial experience to ensure that the final outcome exceeds your expectations. Consequently, you can entrust us with your upcoming endeavors, no matter their magnitude, with the utmost confidence, knowing that excellence defines our standard.