Roofers and Gutter Contractors In Mascoutah IL
Is it time to update your siding or embark on a home improvement project? Reach out to your local roofing and gutter contractors for the expert service you need at your home or business. Shrum Roofing & Construction, Inc. offers a comprehensive range of siding and roofing services to customers in Mascoutah, IL, and the surrounding St. Louis area. As a family-owned business, we place a high value on quality and draw from our extensive experience to meet your expectations. Contact our team to schedule a complimentary consultation for your project today!
Contact Shrum Roofing & Construction to Request a Free Quote from Experienced Roofing Professionals
Roofers Mascoutah, Illinois
In Mascoutah, IL, residents are well aware of the go-to choice for their roofing installation and repair needs. They turn to the seasoned professionals at Shrum, who possess the expertise to serve both commercial and residential properties. Our extensive range of services ensures that you won't have to wait long to address your roofing needs, thanks to our prompt and local service. Whether you're embarking on a new home construction project or ensuring the long-term safety of your existing commercial property, our roofing contractors bring years of experience to provide top-notch results. From installations and replacements to tear-outs and repairs, no roofing project is too large or too small for us to handle. Contact our team for a complimentary estimate tailored to your specific requirements. We have a diverse selection of robust roofing materials at our disposal to offer you and your property the best options for maximum value and protection. Our roofing material choices encompass:
Metal
Slate
Rubber
Clay Tile
Architectural Shingles
When you rely on the experts at Shrum Roofing & Construction for your property's requirements, you can have confidence that your roof will endure the elements for many years to come!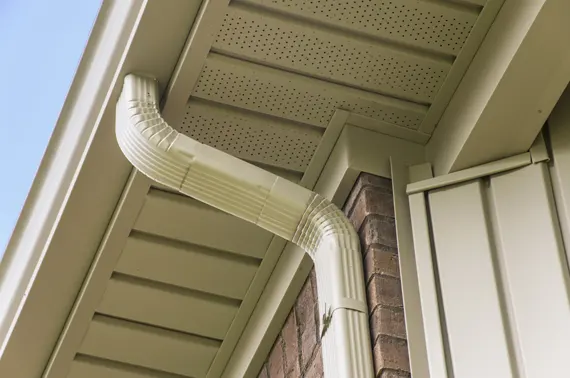 Gutters & Downspouts Mascoutah, Illinois
Facing gutter issues in Mascoutah, Illinois? Were you aware that aging, damaged, or clogged gutters have the potential to result in water accumulation around your roof or foundation, potentially causing substantial damage and incurring repair expenses amounting to thousands of dollars? We offer comprehensive commercial and residential gutter services, encompassing both repair and replacement. Learn more about the various styles and materials below.
K-Style Gutters – These are the prevailing gutter type in contemporary construction, characterized by flat bottoms and backs, accentuated by decorative finishes.
Half-Round Gutters – Often found in older homes, these gutters resemble tubes that have been halved along their length.
Why Picking Shrum is the Right Choice for Your Next Project
We extend our services well beyond just roofing and gutters; our expertise covers a wide spectrum. This encompasses everything from installing siding and windows to embarking on extensive home improvements and constructing garages. As a local establishment, our commitment to achieving impeccable results from the outset remains unwavering because we are deeply ingrained in our community. Our skilled contractors leverage their extensive experience to ensure that the final outcome surpasses your expectations. Therefore, you can confidently entrust us with your upcoming projects, regardless of their scale, knowing that excellence defines our standard.