Learn More About Our Expert Roofers and Gutter Services In South County MO
Are you vetting contractors for an upcoming construction project? Don't make your choice until you've contacted the local leaders in high-quality construction and remodeling. Shrum Roofing & Construction, Inc. provides roofing and gutter contractors for a range of roofing and gutter services. As a family-owned business, we know that your family relies on us for quality service that comes at an affordable cost. Additionally, our team of professionals has a wealth of experience that they utilize to produce results that your family will rave about for years to come. Call now to schedule a free consultation with our contractors!
Reach out to Shrum Roofing & Construction to Obtain a Complimentary Quote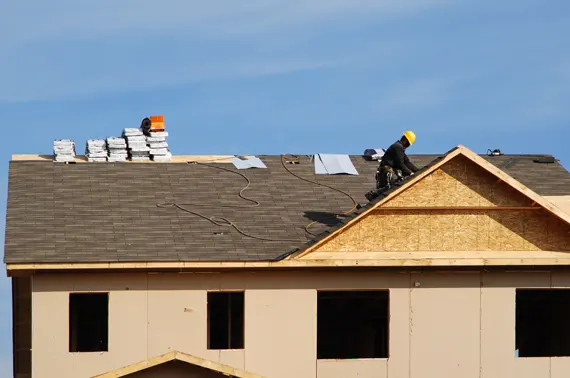 Roofing South County, Missouri
In South County MO, people around here know the name to call for all their roofing needs. They know that Shrum offers service from highly trained and friendly technicians who have the experience to provide service at all commercial and residential locations, including repair, replacement, tear-outs, and installation of siding for new construction projects. We take pride in offering a wide range of services to our customers. Whether you're creating your dream home from scratch or trying to make sure your current home stays safe, secure, warm, and dry for years to come, our expert roofing contractors have the knowledge and experience to get the job done! From new installations to minor repairs, there's no roofing project too big or too small. Ready to get started? Call our roofing company for an estimate of our superior services. We utilize an array of dependable roofing materials such as:
Metal
Slate
Rubber
Clay Tile
Architectural Shingles
When you bring in Shrum Roofing & Construction experts for your property's needs, you can rest assured that your roof will be ready to face whatever Mother Nature throws at it!
Gutters & Downspouts South County, Missouri
Are you in need of new gutters? Are your gutters damaged or clogged? Did you know that failing gutters can cost you thousands of dollars in damage? Failing gutters can cause pooling water, which could affect the roof or foundation of your home. Shrum provides repair and replacement of guttering and gutter systems – Please read more below about the styles and materials available to you.
K-Style Gutters – These types of gutters feature a decorative finish on the front. They have a large drainage capacity, and they're the most commonly used gutters on the market.
Half-Round Gutters – These are mostly seen in custom homes, older homes, and historic restorations. They look like tubes that have been cut in half and have less drainage capacity.
Why Picking Shrum is the Right Choice for Your Next Project
We go far beyond just being a roofing and gutter company; our capabilities span a diverse spectrum. From installing siding and windows to undertaking extensive home enhancements and constructing garages, our skill set is wide-ranging. As a local establishment, our dedication to achieving flawless results right from the beginning remains steadfast, as we are deeply ingrained in this community. Our adept contractors leverage their substantial experience to ensure that the final outcome exceeds your expectations. Consequently, you can entrust us with your upcoming endeavors, no matter their magnitude, with the utmost confidence, knowing that excellence defines our standard.