Trusted Roofing Company with 25+ Years of Experience in Sparta, IL
Whether you're initiating a new remodeling project or seeking renovation, Shrum Roofing & Construction is the name to call for assistance. We specialize in both residential and commercial construction and have consistently delivered exceptional results to residents in the Sparta, Illinois area. Our team of seasoned contractors offers a wide range of services, including roofing, siding, remodeling, construction, and much more, catering to the Metro East area and its neighboring communities. As a family-owned and operated business, we understand the significance of modern and efficient homes, and that's precisely what we excel at. If you're in search of a stylish, valuable, and efficient home, Shrum Roofing & Construction is your solution. We are a licensed roofing company with years of experience and a well-trained staff dedicated to meeting your needs for residential and commercial construction, as well as home improvement.
Contact Shrum Roofing & Construction, Your Reliable Roofing Company, for a Free Quote on Roofing and Gutter Services
When you require the services of a roofing company in the Sparta, Illinois area, Shrum Roofing & Construction stands as the top choice. With extensive experience in roof repair, installation, and replacement, we are well-equipped to meet the roofing needs of our community. A single phone call is all it takes, and we're prepared to address your residential or commercial roofing concerns. Whether you're embarking on the construction of a new home or seeking roofing services for your existing residence, our licensed roofing contractors are at your service. From installation to replacement, tear-outs, and repairs, reach out to Shrum Roofing & Construction for all your roofing requirements in the Sparta, Illinois area. Explore our range of roofing materials below:
Metal
Slate
Rubber
Clay Tile
Architectural Shingles
Shrum Roofing & Construction safeguards the primary defense line of your home with top-quality roofing materials and expert roofing services, ensuring the safety of your home or business!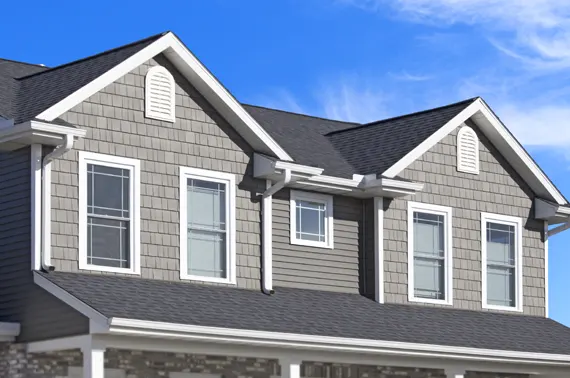 Gutters & Downspouts Sparta, Illinois
Is it time to consider replacing the gutters at your home or business? Have you observed any clogs? Clogged and damaged gutters have the potential to lead to water pooling around your foundation or on your roof, resulting in substantial damage that could incur thousands in repair costs. Fortunately, you can reach out to Shrum Roofing & Construction for the repair and replacement of gutter systems. Explore further below to learn about the available styles and materials.
K-Style Gutters: These gutters have flat bottoms and backs, with the front side of the gutter formed into a decorative shape, often resembling crown molding.
Half-Round Gutters: These gutters resemble round tubes that have been halved, and they are typically found in older homes.
Why Picking Shrum is the Right Choice for Your Next Project
We offer more than just roofing and gutter services; our expertise spans a diverse spectrum of capabilities. From siding and window installations to comprehensive home improvements and garage construction, our skill set is versatile. As a local establishment deeply rooted in the community, our commitment to achieving flawless results from the outset remains unwavering. Our skilled contractors draw upon their substantial experience to ensure that the final outcome not only meets but surpasses your expectations. Therefore, you can place your trust in us for your upcoming projects, regardless of their size, with complete confidence, knowing that excellence is our benchmark.