Premier Roofers and Gutter Services In Alton IL
Are you embarking on a new roofing project or a renovation? It's time to reach out to the local experts in residential and commercial construction to ensure you receive the best possible service. Shrum Roofing & Construction, Inc. offers a wide range of remodeling and construction services to customers in Alton, IL and throughout the St. Louis metropolitan area. As a family-owned business, we recognize the significance of enhancing and upgrading our homes, and that's why we're here to provide essential services for our community. With a dedicated team and years of industry experience, you can trust Shrum for all your residential and commercial construction and home improvement needs!
Comprehensive Roofing Services in Alton, IL
Is your roof showing signs of wear and tear? Whether you're dealing with a leak or your roof is simply aging and in need of replacement, Shrum is here to assist you. Our team of friendly professionals in the Alton area is dedicated to providing reliable roofing services. As a family-owned business, we understand the importance of a sturdy roof over your home or business, ensuring it remains dry and warm. Contact us today for a free estimate!
Residents in the Alton area trust us for a range of roofing services for both commercial and residential properties. Our experienced and friendly team is just a phone call away, ready to deliver expert solutions. From new construction roofing and installation to roof repair, replacement, and tear-outs, we've got you covered. We specialize in various roofing materials, including metal, architectural shingles, slate, rubber (EPDM), and clay tile. Each material has its unique advantages and drawbacks, and we can guide you in choosing the right option for your needs.
Proactively addressing roof issues is crucial to prevent potential structural problems in your home. Keep an eye out for signs such as abnormal-looking shingles, clear shingle damage, granules in your gutters, leaks, stains on interior walls or ceiling, and unusual spikes in your energy bill. If you notice any of these indicators, don't hesitate to reach out to Shrum Roofing and Construction. Our experts are ready to swiftly and expertly address your roofing problems in the Alton area.
Comprehensive Gutter Solutions for Effective Drainage in Alton, IL
Whether your roof or foundation is facing challenges due to poor drainage, Shrum Roofing & Construction is your exclusive source for gutter repair and replacement services in the Alton, IL area. As a family-owned business committed to the well-being of your home, we provide high-quality gutters to ensure optimal drainage and maintain the integrity of your property. Our team of dedicated professionals, backed by extensive industry experience, stands ready to be your trusted partner for a range of gutter services tailored to meet the unique needs of Alton residents.
Discover the go-to choice for gutter and drainage solutions in the Alton area with Shrum Roofing & Construction. Our trained and friendly professionals specialize in gutter repair and replacement, serving both commercial and residential customers throughout Alton. Offering a diverse range of services, we ensure that the assistance you need is just one phone call away. Explore our comprehensive services, including gutters for new construction, gutter repair, replacement, and custom-fit gutters. Recognizing that gutters are not one-size-fits-all, we provide various materials such as aluminum, copper, steel, and vinyl. Contact our staff to make the best choice for your home's drainage needs.
Browse our list of gutter materials, each presenting unique advantages and considerations. From the popular and affordable aluminum to the low-maintenance copper, durable steel, and lightweight vinyl, we offer options to suit different preferences and budgets. Wondering if you need new gutters? Consider signs such as gutters falling off, rusty spots, inadequate water drainage, roof leaks, or foundation issues. Our experienced staff provides detailed insights and solutions for diagnosing and addressing your gutter problems. Additionally, we offer practical gutter maintenance tips, emphasizing regular inspections, timely repairs, and proper water runoff management to ensure the longevity and effectiveness of your gutter system in Alton, IL.
Contact Shrum Roofing & Construction to Request a Free Quote for Roofing, Gutters, and Additional Services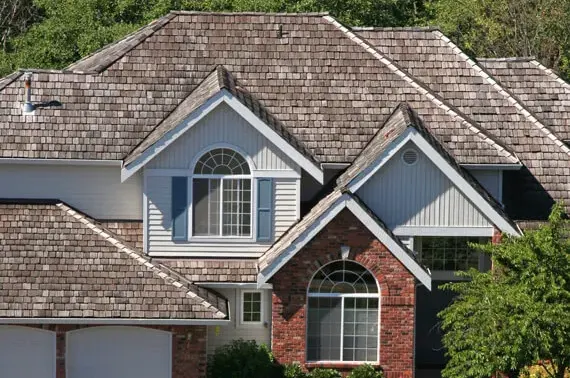 In the Alton, IL area, residents have a trusted name for all their roofing needs – Shrum. Our friendly and experienced roofing professionals are the first choice for a broad range of commercial and residential services. With a team of roofing specialists, we offer a comprehensive suite of services, ensuring that the assistance you require is only a phone call away. Whether you're embarking on a new home construction project or seeking to maintain the long-term safety of your existing home, our roofing contractors possess the expertise and experience to meet your needs. From installations and replacements to tear-outs and repairs, no roofing project is too large or too small for us to handle. To begin, please reach out to our team for a complimentary estimate. We work with a diverse range of roofing materials, ensuring we can provide you and your property with the optimal solution for maximum value and protection. These materials include:
Metal
Slate
Rubber
Clay Tile
Architectural Shingles
When safeguarding your property's integrity is paramount, rely on the family-owned roofing company committed to ensuring the safety, comfort, and dryness of your space!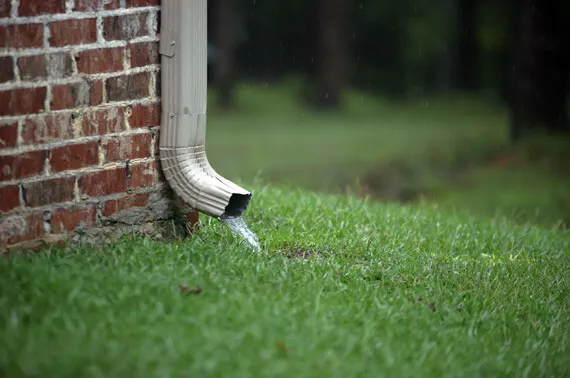 Gutters & Downspouts Alton, Illinois
Blocked or deteriorated gutters have the potential to result in roof flooding and water damage to your home's foundation. Our team offers solutions for repairing and replacing a variety of gutter and downspout options, catering to both homeowners and businesses. Further details on available sizes, materials, and additional valuable information can be found below.
K-Style Gutters: These gutters are characterized by flat bottoms and backs, with the front side often fashioned into decorative shapes, typically resembling crown molding.

Half-Round Gutters: Resembling cut-in-half round tubes, these gutters are commonly found in older homes.
Why Picking Shrum is the Right Choice for Your Next Project
We extend our capabilities far beyond the realm of roofing and gutters; our expertise encompasses a wide spectrum of services. From siding and window installations to comprehensive home improvements and garage construction, our skill set is diverse and all-encompassing. As a local establishment, our unwavering commitment to delivering impeccable results from the very start is deeply rooted in our strong ties to the community. Our skilled contractors draw upon their extensive experience to ensure that the final outcome not only meets but surpasses your expectations. This assurance empowers you to entrust us with your upcoming projects, regardless of their scale, with the utmost confidence, secure in the knowledge that excellence is our benchmark.