Premier Roofing Company for Roofers and Gutter Services in Madison County, IL
Are you ready to kickstart your next remodeling project? Don't delay; get in touch with a local contractor who can deliver the expert services and outstanding customer care you deserve. Shrum Roofing & Construction, Inc. offers a comprehensive range of services for both the interior and exterior of properties in Madison County, IL, and the surrounding communities of the St. Louis Metro-East area. As a family-owned business and roofing company, we take immense pride in our work, ensuring that your family can showcase the results with confidence to friends and loved ones. Count on our extensive industry experience and dedicated team of skilled professionals to provide results that will bring you joy for years to come. Contact us today to schedule a free consultation!
Contact Shrum Roofing & Construction, Your Trusted Roofing Company, Today for a Free Estimate on Your Roofing, Gutter, and Other Project Needs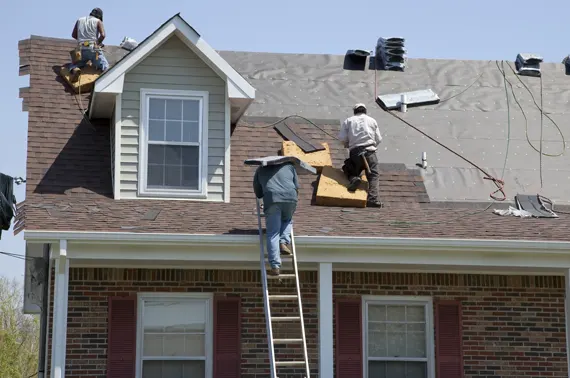 Roofing Madison County, Illinois
In Madison County, IL, our reputation for providing a wide array of roofing services is well-known. Our team comprises trained, friendly, and professional roofers who excel in delivering both commercial and residential services. We place a strong emphasis on service quality, friendly customer care, and ensuring your complete satisfaction. Whether you're embarking on a new construction project for your home or business, or you simply want to fortify your existing property against the elements for years to come, our roofing company brings a wealth of knowledge and experience to meet your specific needs. Whether you require a completely new roof, a roofing replacement, minor repairs, or even tear-outs, no project is too large or complex for us to handle. We prioritize the use of only the highest-quality materials to provide you and your property with the most comprehensive options, delivering maximum value and protection. These material options include:
Metal
Slate
Rubber
Clay Tile
Architectural Shingles
Ensure that your roof is robust and ready to protect you from the elements for many years to come. Contact Shrum Roofing & Construction for all your roofing needs!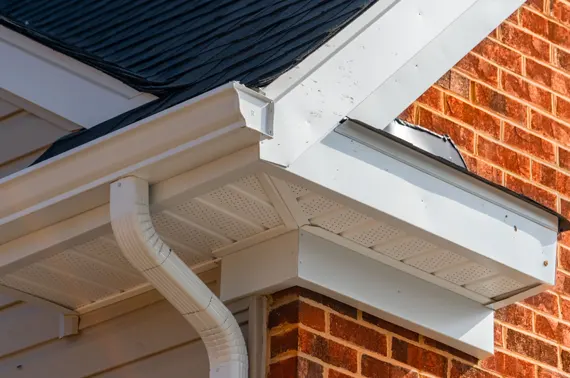 Gutters & Downspouts Madison County, Illinois
Dealing with gutter issues, such as damage, clogs, or aging? Save yourself the headache of costly repairs by reaching out to the experts at Shrum for professional gutter repair and replacement services. Inadequate drainage can lead to water pooling around your property, potentially causing damage to the roof or foundation. We cater to both commercial and residential customers – explore the details below regarding the materials and styles we offer.
K-Style Gutters – Found in most modern construction projects, these gutters boast a decorative front finish while maintaining flat backs and sides.
Half-Round Gutters – Typically found in older homes and often used in historic restoration projects, these gutters resemble tubes that have been halved.
Why Picking Shrum is the Right Choice for Your Next Project
At Shrum Roofing & Construction, we offer much more than roofing and gutter services. Our expertise extends across a wide spectrum of capabilities. Whether it's siding and window installations, extensive home improvements, or garage construction, our skill set is versatile and comprehensive. As a local establishment deeply rooted in the community, our commitment to delivering flawless results from the outset remains unwavering. Our highly skilled contractors draw upon their extensive experience to ensure that the final outcome not only meets but exceeds your expectations. This assurance allows you to entrust us with your upcoming projects, regardless of their scale, with the utmost confidence, knowing that excellence is the hallmark of our work.