Superb Choice for Roofing Contractors and Gutter Services in Collinsville, IL
Ready to elevate your home's appeal? Eager to breathe new life into your living spaces? Reach out to your dependable local experts in home remodeling and roofing services – Shrum Roofing & Construction, Inc., your trusted roofing contractors. We specialize in providing top-tier roofing and gutter services for the residents of Collinsville, IL, and the broader St. Louis Metro-East area. Being a family-owned business, we appreciate the aspirations of many families to enhance their homes, and we draw upon our extensive experience in construction and remodeling to bring these dreams to life for our local community. Count on our team of seasoned professionals to meet all your requirements. Contact us today to schedule an initial consultation!
Contact Shrum Roofing & Construction for a Free Quote from Roofing Contractors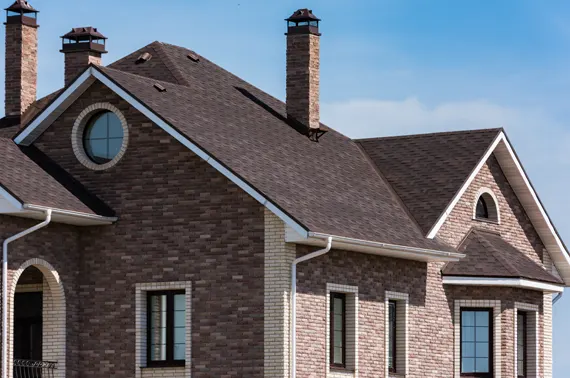 Roofing Collinsville, Illinois
In Collinsville, IL, Shrum Roofing & Construction is the trusted name for roofing repair, installation, and more. Local residents are well aware that our company boasts a team of skilled and friendly professionals capable of servicing both commercial and residential properties. Moreover, we offer a wide array of services to ensure that the assistance you need is just a phone call away. Whether you're in the process of building your dream home or business from the ground up or looking to ensure that your current property continues to provide the protection you expect for years to come, our experienced roofing contractors possess the knowledge and expertise to tackle the job. There's no roofing project our skilled contractors can't handle, be it installation, replacement, tear-outs, or repairs. We exclusively use high-quality roofing materials to provide the best value to our customers, including:
Metal
Slate
Rubber
Clay Tile
Architectural Shingles
When you entrust your roofing needs to our professional team, you can have confidence that your property will remain safe, secure, warm, and dry!
Gutters & Downspouts Collinsville, Illinois
Did you know that neglecting clogged gutters can lead to substantial issues? Clogged or damaged gutters can result in poor drainage, potentially leading to expensive roof or foundation repairs. Our services include gutter repair and replacement for both commercial and residential customers. Explore the details below about various styles and materials.
K-Style Gutters – These gutters have flat bottoms and backs, and the front side is often shaped with decorative elements, often resembling crown molding.
Half-Round Gutters – Resembling half-round tubes, these gutters are commonly found in older homes.
Why Picking Shrum is the Right Choice for Your Next Project
We offer more than just roofing and gutter services; our expertise covers a wide range of home improvement projects. From installing siding and windows to handling extensive home renovations and constructing garages, our skills are diverse. As a local business deeply rooted in the community, our commitment to delivering flawless results from the start is unwavering. Our experienced contractors use their substantial knowledge to ensure that the final outcome not only meets but exceeds your expectations. You can confidently entrust us with your upcoming projects, regardless of their size, knowing that excellence is the standard we uphold.